Contents
Admin's Note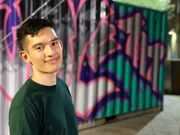 Hello, this is Aaron Alberto (Etherean4), formerly known as Cakedude222 I would like to welcome all of you to Fanon Wiki where stories are endless and neverending in imagination, creativity, and entertainment. Dream a dream, ever wanted to show the world your story ideas? Well you have come to the right place to do so! Feel free to contact me or any other admin for help, you can also reach me on my social media.
Twitter: @Aar0nalberto [1] or Instagram: @aarth.scape [2] I also have a YouTube channel[3]
News
The Wiki got a new make over.
The DJ Hero video games are discounted.
DJ Hero 2 was released.
DJ Hero was released.
This Wiki is created.
Helping Out
To write a new article, just enter the article title in the box below.
Not sure where to start?
Featured Article
DJ Shadow
is a DJ playable character that appears in
DJ Hero
. He is considered a prominent figure in the development of instrumental hip hop and first gained notice with the release of his highly acclaimed debut album Endtroducing....., which was constructed entirely from samples. He has an exceptionally large record collection, with over 60,000 records.
Read More...
Featured Video
Affiliates