DJ Candy Nova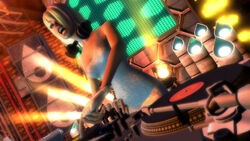 Candy Novais a fictional playable female character who appears in both Dj Hero and Dj Hero 2. It's possible that DJ Candy Nova would of appeared in Dj Hero 3D. Many people find her and Kitty Smash as the DJ Hero versions of Judy Nails.
Early life
[
]
Candy Nova, born Candice Novak, had longed for a regular childhood with friends and parties, but became an Olympic figure-skater thanks to her pushy mother. She was already five-time European champion at the sport by the age of 16, but her mother's strict regime was too much for Candice. After her father left home, she saw her chance had come. For her graduation, she organized a roller disco at her school and has never looked back since.
Career
[
]
Following her childhood dream, she flew of to Ibiza with fellow DJ, Kitty Smash. They would soon become best friends. She was experiencing the success her mother had craved sooner than she thought. Her smooth moves and hot grooves got the biggest clubs queuing up to book her for their parties, and Candy Nova was born. But don't be fooled by her angelic looks, this Candy isn't all sweetness and light.
Outfits
[
]
In each DJ Hero game, Candy Nova has 4 outfits. Her DJ Hero 1 outfits are:
Tight Fit
Hot Socks
Golden Angel
Red Wing
Gallery
[
]
Fan Page
[
]